READ OUR BLOG - 2016

READ OUR BLOG - 2015

READ OUR BLOG - 2014

READ OUR BLOG - 2013

READ OUR BLOG - 2012

READ OUR BLOG - 2011

READ OUR BLOG - 2010
May 25, 2016
Do you realize that our communities these days push us to 'mind your own business' and 'she is not nice, don't be nice to her too'? I personally think we cannot accept that as a general mindset in our daily lives. I always believe in 'you get what you give'. So what's the point of treating people bad? If you want to get what you give, then give good.

Too often we underestimate the power of a touch, an expression, a smile, a kind word, a listening ear, an honest accomplishment, or the smallest act of caring, all of which have the potential to turn a life around. Kindness is more than deeds. It is anything that lifts another person up. I sometimes send a message to my old friend, just to chit-chat about how life's going, what's happening, or even just to talk about the weather or the social issues. Another simple small act of caring is giving a seat to older people in the train, picking up one's trash and put it in the garbage can, or just compliment your friends honestly. You never know how powerful these small acts are. People might be having a rough day, but when you give a small act of kindness, it will make them feel better.

And do you know? An act of kindness can decrease stress, lower the blood pressure, make you feel good, and also inspire more kindness! One simple tiny kindness can make you feel happier, make you feel good, and also make the other person feel happier too! Imagine how the world can be if this other person is giving kindness to another one, and so on, like a chain reaction. It is beautiful, isn't it? Every time I talk to my old friends, or I give a seat to older lady in the train, I feel so good. It boosts my happiness. The kind of happiness that you can't buy.

So today, give someone a hug. Smile at a stranger while waiting your coffee. Ask how your old friend is doing. Anything to lift another person up. Because wherever there is a human being, there is an opportunity for kindness. Small acts, when multiplied by millions of people, can transform the world. Start now, start from yourself ladies!


xoxo,
Kadya Kirana - Yogyakarta

May 12, 2016
Do you know that there's a famous chocolate factory in Jogjakarta? Yes, it is 'Chocolate Monggo'! Their factory is located at Jl. Dalem KG III/978, Purbayan, Kotagede. People are allowed to come to this factory to buy their delicious fresh-from-the-oven chocolate for souvenirs. They have many various flavors, such as praline, caramel, strawberry, mango, dark chocolate, milk, durian, ginger, and also one of their unique flavor, red chili. It might seem a lil weird, but turns out many people love this flavor!.
Chocolate Monggo factory is one of the most interesting spot in Jogjakarta. Beside the main factory and chocolate store, they also have a signature display wall with pink Vespa and traditional touch. Many tourists and visitors (large group of company visits, or school visits) take picture here.
In order to visit a chocolate factory, I decided to wear something brown. And what to wear with my Kelly Brown wedges? I paired them with hi-neck top and high-waist ripped jeans for a casual look! We all know that hi-neck is so happening now hehe. All simple and casual, but yet super comfortable!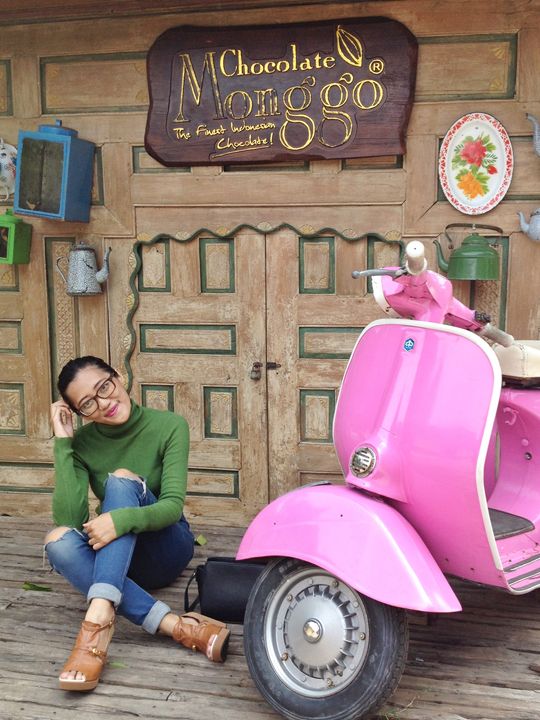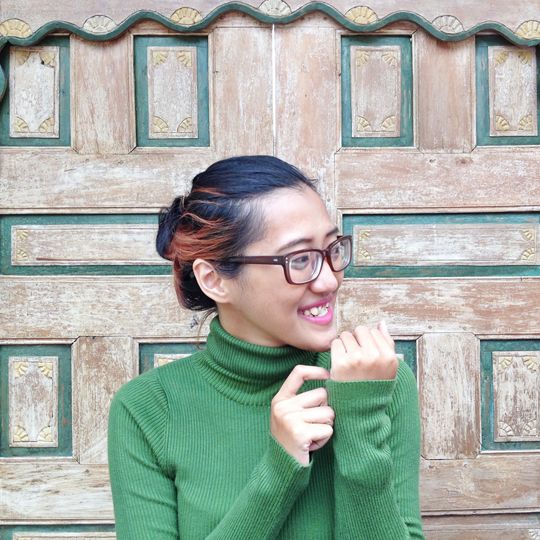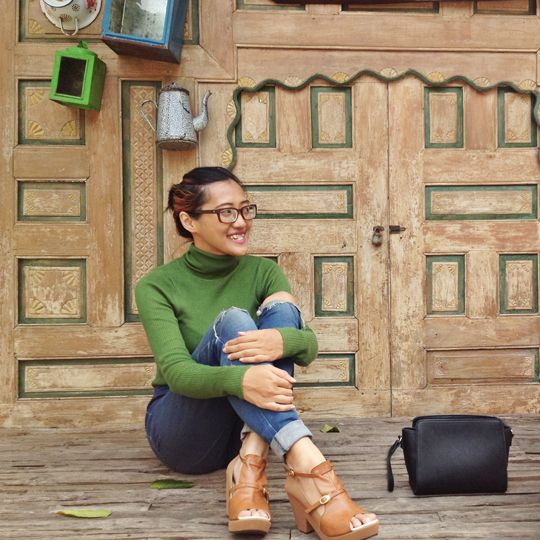 xoxo,
Kadya Kirana - Yogyakarta
May 09, 2016
Last week, we collaborated with the highly coveted label, Happa by Mel Ahyar, for Jakarta Fashion & Food Festival 2016.
Our Kirana sandals were a match made in heaven when worn together with Happa's new collection, "Lady Lama".
Below were what we showcased in the fashion show, just before the runway started and the music sang into our souls. The whole collaboration was beautiful!
May 06, 2016
For a lovely day out, I always choose to wear comfortable outfit, which means, comfortable clothes and comfortable shoes. I picked a little black dress and denim jacket, and paired it with my Taylor Grey for a chic look. And I added a final touch with sling bag and cute pins all over the jacket. Ready for a walk!
By the way, have you visited this famous blue door around Kotagede? It is located in the area of Mataram Mosque, Kotagede, Yogyakarta. This tiny street is surrounded by old buildings, and it is famous because of its blue door. This blue door is actually a gate of a resident, that's why we must not make noise and disrupt the people when we visit this spot. Because it is unique and photogenic, many people come to this street just to take pictures in front of this door. If you happen to visit Yogyakarta, you should come by and visit this street!

xoxo,

Kadya Kirana - Yogyakarta